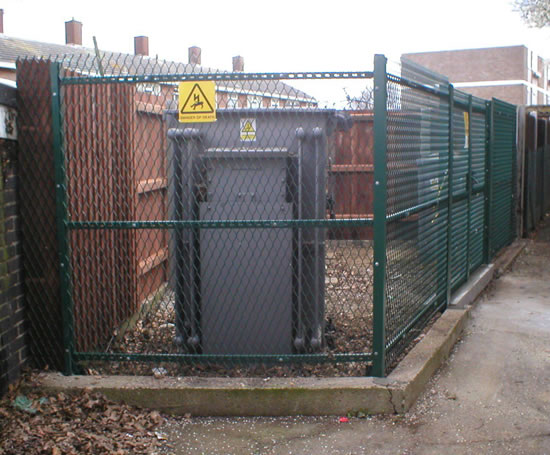 Substations are part of the electricity supply network that enables the widespread use of electricity at home, work, places for education, leisure, commerce, health care, etc. The size of substations can be very variable, depending on whether they serve mainly residential properties, or also commercial and industrial units, etc. Schools and institutions such as hospitals often have their own substation.
Low power substations are found about 150-200 metres apart in a typical urban area. They are often grey metal boxes in a fenced enclosure. Sometimes they are inside brick or plastic structures. They have a 'Danger of Death' yellow sign attached to the fence. This is to warn the public of the danger of electric shocks. They change a high voltage coming into the substation, often 11,000 volts, though it can be higher, into 415/230 volts. Rural areas may have small grey box transformers attached part way up a wooden pole.
The bigger the substation, the higher the electromagnetic fields are likely to be and the further away a property has to be, to be in low fields. Measure the fields, it is easy and vital to do so.